Visual Art & Art History Professor Shelley Hornstein talks about her experiences with eLearning. She is the recipient of the 2013-2014 AMPD eLearning Teaching Award for her online course Memory and Place.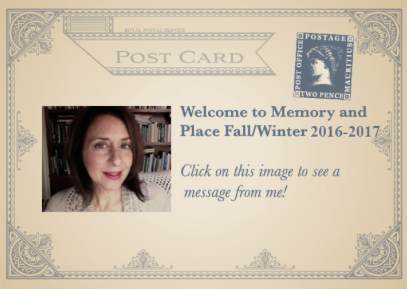 How long have you been teaching blended/online courses?
The first course fully online course I taught was in 2004 when WebCT was the platform "du jour"! At the time, I was involved in meetings and workshops with like-minded colleagues at the Open University in particular and various associations struggling with these new pedagogical approaches. I was approached by various American universities to participate with them in this new educational initiative in the years around that time as well.
Why did you choose eLearning as a method for course delivery?
It's difficult for me to separate eLearning from other forms of what had previously been labelled "distance" learning. Atkinson College, where I had been hired, was a faculty at York designed to deliver courses to adult students who worked full-time during the day. An Adult student at the time (I was hired in 1985) meant they had to be 21 years of age and older and methods of delivery to adults since the founding of Atkinson in 1969 preceded eLearning as such; it hadn't yet been a model for education to the extent that the internet was not yet invented. Yet historically since the 19 th century and internationally, various approaches to distance learning existed through correspondence programs, for example, all the way up to satellite broadcasts particularly for health and medical communities and teleconferencing courses and workshops, the latter that I was part of in the late 90s and early 2000s. eLearning simply continues the tradition of reaching out to students who are in a different location than the Professor.
This brings me to your question: I chose eLearning as part of a personal philosophy that settled deep within my bones once I was hired at Atkinson/York. I am committed to alternative forms of teaching in the belief that fundamentally we all have different styles of learning. No one form suits all. Yet the form we most traditionally espouse is the physical classroom for lecturing. While this works for many, it may not work for all and so eLearning provides yet another access point for students. As with classroom teaching, there are pros and cons. But the opportunity students are afforded is to take up the challenge of learning at their own pace and on their own schedule. This has demonstrated to me how some rise to the challenge they may not otherwise have had.
Are there aspects of your course content that you think are well-suited for online delivery?
Given that I teach highly visual and audio rich courses, there is no question that the image- based options available online through still and animated websites as well as computer generated imagery and technical advances in digital photography offer visuality in high resolution for students that is rather seductive! If students find reading text difficult online, they can always print out the material. Online delivery of this sort of visual, audio and textual content is ideal online. One only has to think about how ill-suited image projection is in the classroom: light infiltrates the room, the technical projection devices are never up to speed and each person sits at a different angle to the screen. The classroom experience of images cannot compete with personal computer screens.
As a faculty member, how is teaching online different from your face-to- face courses?
Much of this I've addressed above. Yet there is another aspect I'd like to raise. Face-to- face is wonderful. There is no question. Online teaching is not attempting to replicate this experience. But how many students have you known who are not comfortable (necessarily) in a classroom setting? Different strategies play out even when classes are broken down into smaller groups with various educational exercises and workshop strategies. Social settings such as the classroom, or the classroom in different smaller sub-groups, are important to establish so that communication and the exchange of information and learning of all sorts can take place. Online, however, these social settings can form as well, but differently. In my classes, students don't see each other in real time (necessarily). Sometimes there are occasions for students to meet their group members in real time and share ideas. The online community, however, provides students the time to post thoughts, retrace, revise, and so on. Communication is different, not better, not worse, just different. Some enjoy communicating via text online (chatrooms, electronic message-bulletin boards, fora), and others do not.
In what ways do you think your students benefit from taking your course online?
I think all students should try an online course once. I think the challenge of learning in this sort of environment awakens different angles of what we think!
What do you find most exciting about the online teaching experience for faculty and students?
Too many to name, but one revelation was this: while the skeptical critiques continued (and continue) to roll in about the importance of classroom, person-to- person contact being of utmost importance and that online courses mean that students will be glued to their screens and never meet another human being, this fact: in each and every year I've taught online courses, this informal survey information kept surfacing: students couldn't wait to get into museum and gallery spaces to actually SEE the real thing. So hungry were they after viewing objects and places online that they were actually starved for experiencing the material places and things. Fabulous, isn't it?
Is there anything else you'd like to add that hasn't been covered above?
I thought that as a closing segment I'd offer two examples of the ways in which eLearning can be wonderfully gratifying for those teaching and those learning. The first is that students with challenges of all sorts were able to find their footing online and move forward with their studies unimpeded. The second is best told the way I experienced it. One December break, I offered my online students an optional tour and visit of the Art Gallery of Ontario with me. The turnout was remarkable! Over three quarters of the class was there (see above re: experiencing material places). At the end of our day at the AGO, one student approached me and began to explain how she is a deaf student and dreamed of enrolling in an Art History course but never could. She was a full-time student at McGill University in Montreal while enrolled in my course but she could never take a McGill Art History course because they were all taught in a traditional classroom setting with no ability for accommodation. Thus, she was thrilled to be able to take my course as it opened up a world to her.